Fixed Rates: Your Energy Choice
Understanding Your Energy Options
Depending on where you live in Alberta, you're likely to have two options when buying electricity and natural gas. You can choose to pay the regulated rate (i.e. market-based monthly rate) or you can choose a fixed-rate plan by signing up with a competitive energy retailer, like Direct Energy. While not all energy needs are equal - some industry experts suggest that consumers residing in a deregulated energy market like Alberta, should explore the advantages that a fixed-rate plan can offer.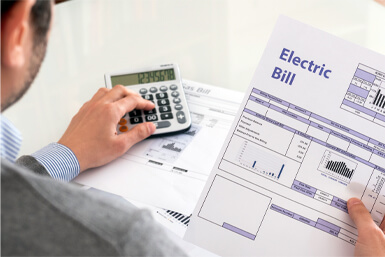 Since regulated rates can fluctuate up and down on a monthly basis (i.e. variable rate) customers who choose to forgo securing their rate with a contract, could run the risk of paying more for their energy usage in the long run (especially during the winter months).
In 2021, both electricity and natural gas rates were higher than recent years. Several factors contributing to the recent price surge include volatile winter and summer weather, the end of long-term power purchase agreements (PPAs) in Alberta, unplanned infrastructure outages, and the impact of drought conditions in western areas of North America, according to a recent article in the Financial Post. As a result, consumers are taking different approaches to reduce their energy bill by simply reducing their consumption when the market rates are higher, or opting for a stable fixed-rate energy plan, while others are just paying the higher price.
Energy experts are advising consumers to consider securing their rate with a competitive energy retailer instead of remaining vulnerable to unpredictable market conditions. "I have been urging anyone who will listen that every single Albertan should be on a fixed rate for this winter. And I say that for both natural gas and power", University of Calgary energy economist Blake Shaffer stated in a recent CBC News article.
The good news is that you have the power to choose the energy option that works best for you and your home. If price stability, multiple term options, and special promotions are appealing to you, then fixed-rate electricity or natural gas plan is likely the best choice! With a fixed rate, you are charged the same amount of money for each kilowatt-hour (kWh) of electricity or unit of natural gas gigajoules (GJ) you use.
Energy consumption typically varies based on the season, but if you usually use a predictable amount of energy each month, a fixed-rate plan can make it very easy to budget. For example, if you secure a fixed rate for five years, you're likely to pay nearly the same amount five years from now. In some instances, the rate you lock in may be a little bit higher than the current variable rate, but this option could protect you from unexpected events that could affect the market rate over time.
Why should I sign up with Direct Energy?
Signing up with Direct Energy can give you peace of mind knowing that your rate is secure – no matter what's happening in the market. We're committed to providing our customers great value for the long term, not just the fixed term.
Save on Energy
Now is the time take advantage of all the benefits we have to offer:
• Get one bill when you bundle electricity and natural gas; bundled services are not available with the regulated retailers
• Flexible term options let you lock in your rate for up to five years
• Get special incentives just for signing up like our Cashback Plus Rewards where you can earn up to $250 cash back and a Google Nest with a 5 Year Energy plan
• Fixed price stability and winter price protection
• Contribute to renewable sources and add a percentage of green energy to your electricity plan or energy bundle
• Special offers and contests
• Payment plans to help manage your monthly budget
• Pay your bill with a credit card (American Express, Visa or Mastercard) debit, cheque or bank
• No enrollment fees and no early exit fees
Regulated customers are not on a contract and can switch to a fixed-rate plan anytime. If you are searching for a reliable energy rate, look no further! We're a leading energy provider with competitive Alberta electricity rates and Alberta natural gas rates.
Let Direct Energy be your one-stop shop for all your energy needs.
You could be saving more than just energy with a fixed-rate plan from Direct Energy!
Find the right energy plan for you and sign up today.
View Plans